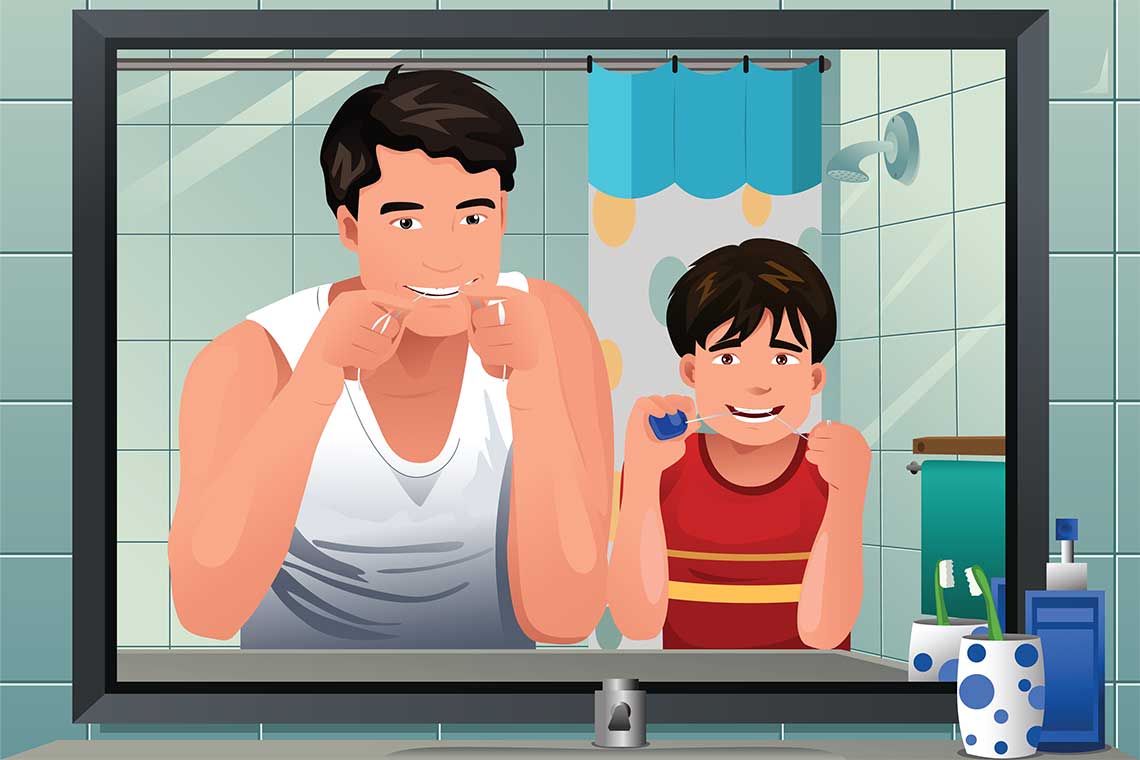 Posted on

August 29, 2019
Daily flossing doesn't just keep your child's teeth healthy; it starts them off early by practicing good oral hygiene, which can contribute to their health in other ways too. Flossing your child's teeth also helps prevent tooth decay. It also allows you to look at your child's mouth for any swelling or redness in addition to the developing teeth. Flossing at an early age can improve the health of children's gums, thereby helping to prevent them from bleeding.
Regular use of dental floss on children helps to prevent the buildup of plaque. Simply flossing your child's teeth can make them look brighter by removing excess food particles that may not be seen or a toothbrush doesn't reach.
Flossing is essential to your child's smile and health. It's a great practical way to start kids off on the right foot to get used to a healthy oral care routine.
When to Start Flossing Children's Teeth?
You should start flossing your children's teeth even when they have only their primary teeth. Once a child's teeth start to fit closely together, usually between the ages of two and six, parents should start to get their children in the habit of flossing daily. As they develop dexterity, you can help them learn to floss. Children usually develop the ability to floss on their own around the age of 10.

To stress the importance of flossing, do it for them regularly until they're able to do it themselves. This will help them develop a good habit of flossing while they still have their baby teeth so that when their permanent teeth come in, they already have flossing worked into their daily oral routine. Find floss that is soft and gentle so that it doesn't hurt their teeth and is comfortable on their gums.
How to Start Flossing Your Child's Teeth
Loosely tie the floss into small circles on either end of the strand so that your child's fingers can easily fit in. This will help them get a grip on the floss in the early stages before they learn how to hold it on their own. Next, have your child follow these basic flossing steps:
Take about 18 inches of floss and loosely wrap most of it around each middle finger, leaving an inch of floss in between.
Gently slide it down between your child's teeth with your thumb and index fingers holding the floss tight. Be careful not to snap it down on your gums.
Curve the floss around each tooth in a "C" shape and gently move it up and down the sides of each tooth, including under the gum line. Unroll a new section of floss as you move from tooth to tooth.
Note: Don't worry if your child's gums bleed at first, it is quite common. After a few days of flossing, the bleeding should stop as their gums become healthier. But if the bleeding persists, consult your dental professional.
Never too Early
It's never too early to start your child off on the road to good oral health. By helping them to learn how to floss at an early age, there is a greater chance they will continue the practice into their teen and adult years.
A good oral routine is the foundation for a healthy mouth and smile. You'll be glad that you contributed to their overall health.
For Stoney Creek dental health, contact us today!