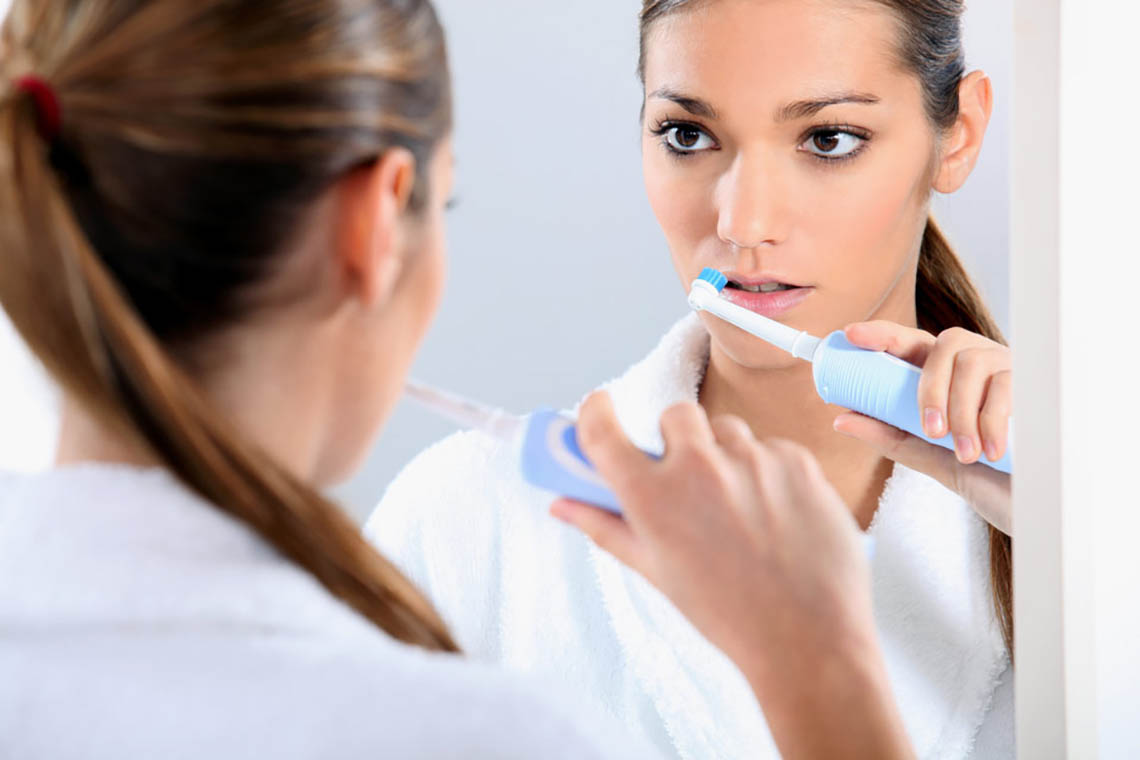 Posted on

February 12, 2021
The debate between manual and electric toothbrushes (and which is better) is ongoing. Overall, the decision to purchase one over the other is personal and will be different for everyone. However, some key factors can help you make the right decision.
Here's what you should know when choosing between an electric or manual toothbrush.
Benefits of an Electric Toothbrush
The best part of an electric toothbrush is the convenience and ease of use. All you have to do is glide the brush across your teeth while the brush completes the cleaning motion for you! This helps guarantee proper teeth brushing and makes this option suitable for people of all ages.
One of the most commonly noted benefits of electric toothbrushes is that they do a much better job at removing plaque. As a result, these brushes are excellent for keeping your teeth clean while improving your overall oral health.
Using an electric toothbrush over a regular manual toothbrush can also increase the effectiveness of your brushing. Depending on the model you buy, they may have a built-in self-timer, which ensures you're brushing for an appropriate amount of time. They also produce less waste since you usually only need to replace the head instead of throwing away the whole brush.
Some models have different modes depending on your tooth sensitivity. Other features you can find in electric brushes include alerts that you're brushing too hard and reminders to replace the brush head.
Electric brushes may also be better for individuals with limited mobility and the elderly. Electric Toothbrushes may also improve the brushing habbits of children and teenagers as the very fast vibrating bristles makes them fun to use.
Disadvantages of an Electric Toothbrush
There are also some disadvantages associated with owning an electric toothbrush.
Cost is one of the major ones. Typically, electric toothbrushes are much more expensive than manual brushes, with some models costing a few hundred dollars.
Replacing the electric toothbrush head on specific models can sometimes be a challenge, too. Certain stores may only carry a limited stock of electric toothbrushes.
There's also the chance that your particular brush may be outdated and no longer available when a replacement is needed.
Benefits of a Manual Toothbrush
Compared to electric toothbrushes, manual brushes cost much less. Not only are they often more cost-effective from the get-go, but you also won't have to spend additional money on replacement heads, batteries, broken chargers, etc.
These brushes are also more easily accessible and can be purchased from most drug or big box stores.
Disadvantages of a Manual Toothbrush
Cleaning your teeth may not be as effectively done with a manual toothbrush. Unlike electric toothbrushes, it can harder to tell whether you're brushing correctly or for the correct amount of time. This could cause certain areas of the mouth to be missed, creating dental problems.
Plus, it's easy to brush too hard with a manual toothbrush. This can lead to oral health issues such as gum recession and enamel wear
Contact Stoney Creek Dental Today!
Having a hard time deciding if an electric or manual toothbrush is right for you? Consult an expert for advice! Contact Stoney Creek Dental today.