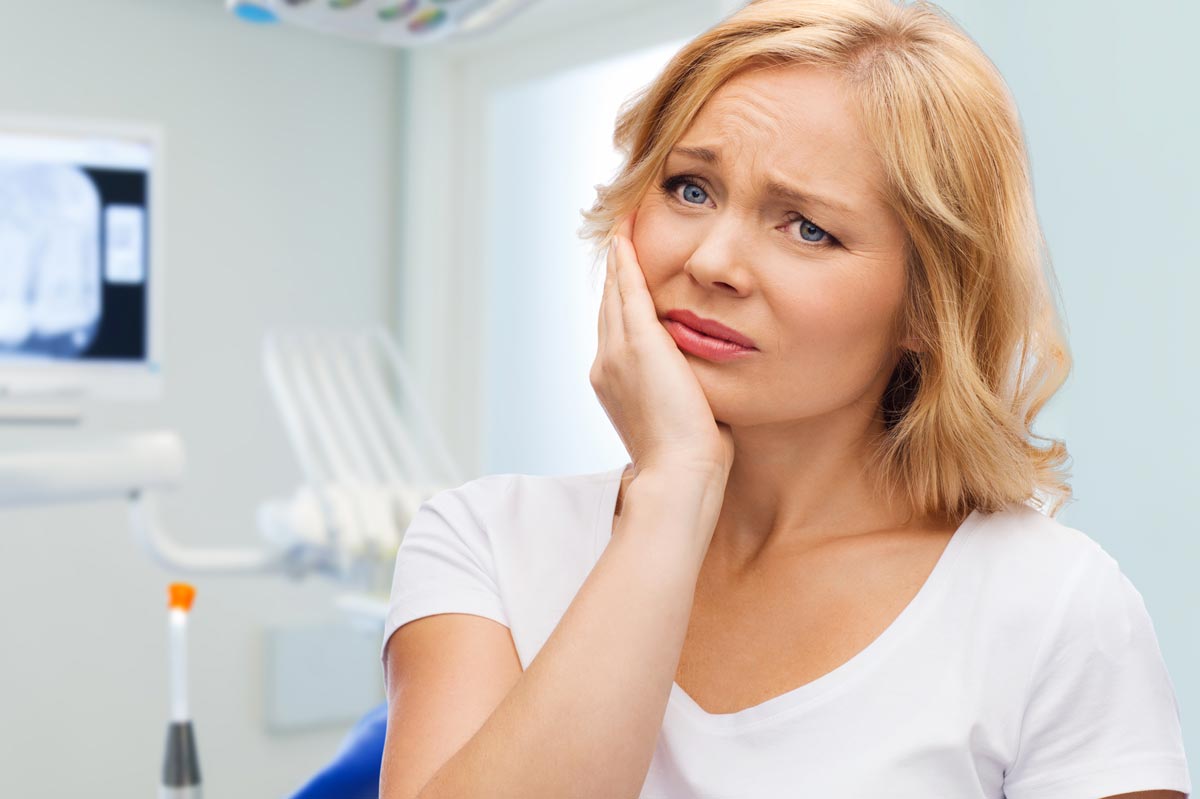 Posted on

February 21, 2019
Have you ever experienced a sudden sharp tooth pain while having a bowl of ice cream on a hot summer day? What about on a cool evening when sipping a cup of hot cocoa? Maybe you've even felt pain from a cold wind against your teeth or wincing when you brush or floss? If so, you are one of many people who experience tooth sensitivity, known as dentinal hypersensitivity.
Statistics Canada collected data for the Canadian Health Measures Survey (CHMS) from about 6,000 people in 15 communities randomly selected across Canada between March 2007 and February 2009. The sample represents 97% of the Canadian population aged six to seventy-nine years old. One of its findings included:
12% of Canadians avoid certain foods because of problems with their teeth or mouth in the past year.
12% of Canadians report that they had ongoing pain in their mouth during the course of a year.
What does tooth sensitivity feel like?
Tooth sensitivity is tooth discomfort or pain that is triggered by foods and drinks that are hot, cold, sweet, or sour. Breathing in cold air can also be a trigger. The pain affects one or more teeth and is often described as sharp, sudden, and shooting deep into the nerve. This condition often peaks in adults 20 to 30 years old, and then rises again in their 50s.
Sensitive teeth can make you feel a little anxious when you think of the pain that comes with having certain foods or beverages. Even just the act of eating can cause enough discomfort to make you lose your appetite.
What are the causes of tooth sensitivity?
Tooth sensitivity is usually caused by worn tooth enamel or exposed tooth root. Enamel is the hard layer of the tooth that protects the teeth above the gum line. Under the gum line, cementum protects the tooth root. Underneath these layers is dentin, which is softer and made up of microscopic tubes called dentinal tubules. These tubules run from the center of the tooth to the outside surface. When the dentin is exposed, the tubules allow heat, cold, and acidity to stimulate the nerve inside the tooth and cause the pain associated with sensitive teeth.
Worn tooth enamel from using a hard toothbrush and using a hard grip while brushing aggressively.
Tooth erosion due to highly acidic foods and beverages.
Tooth decay, worn leaky fillings and broken teeth that expose the dentin of your tooth.
Gum recession that leaves your root surface exposed.
Grinding your teeth at night.
Post dental treatment sensitivity – common, but temporary, especially with procedures such as crowns, fillings and tooth bleaching.
What you can do to prevent tooth sensitivity?
Having a conversation with your dentist is the first step in finding relief from your discomfort. After your dentist determines the reason for your sensitivity, your dentist will treat the underlying cause. Treatment may be as simple as fixing a cavity or replacing a worn filling. However, if your discomfort comes from gum loss exposing root surfaces, your dentist may suggest a gum graft that protects the root surface and support of the tooth.
Even in situations where there is no obvious cause for your pain, there are numerous treatments to help you manage the sensitivity. Your dentist can apply an in-office fluoride gel to strengthen the tooth enamel and reduce painful sensations, while over-the-counter desensitizing toothpaste can block off the nerve endings in the exposed dentin.
Get it checked out
Whatever the reason for your tooth sensitivity, the first step is to get it checked out. Come into our office at Stoney Creek Dental and our dentists will develop a treatment plan for you. There are several steps that you can take to lessen the pain resulting in a happier, healthy oral life. Contact us today at 905-662-1999.