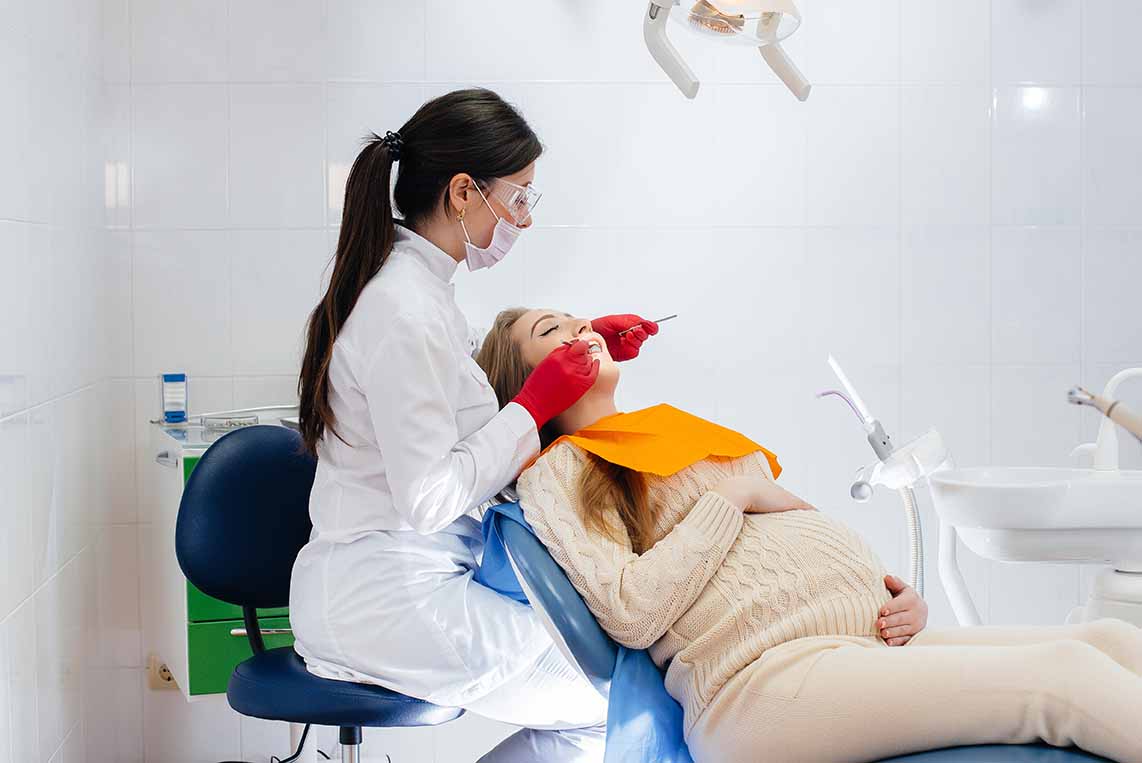 Posted on

June 09, 2023
Taking care of our teeth is an important part of our overall health, but when you're pregnant, you may have worries that the process of cleaning your teeth or the products used could be harmful to you and your baby. Here's what you need to know about going to your Stoney Creek dentist and having dental work done while you're pregnant so that you stay safe and healthy.
Dental work while pregnant
Not only is it safe to have dental work done while pregnant, but it is also a vital part of ensuring you have a healthy pregnancy.
In addition to that, regular cleanings and dental procedures are definitely safe to do at any stage of your pregnancy; just make sure to tell your dentist or hygienist that you are pregnant so they are aware. If you experience pain, swelling or an infection, it must be treated right away to make sure you and your baby stay healthy.
What about x-rays, anesthetics, or medications?
There are ways you can get dental x-rays and anesthetics for treatment during pregnancy. If x-rays are needed for the dental procedure you are having done, there is a specialized lead apron used to protect you and your baby.
Depending on the dental procedure you have done, there could be medications needed as a follow-up to make sure you heal properly or are treated for an infection. When your dentist is determining your aftercare plan, it's really important they know you're pregnant as some medications may not be safe for you to take at this time.
Why is dental care so important during pregnancy?
While regular dental care is important at any stage of our lives, hormonal changes in our bodies during pregnancy can have a more pronounced effect on our dental health.
Many pregnant women experience more sensitive and swollen gums, which can lead to their gums bleeding more often. If this becomes painful or persists, it's important that you check in with your Stoney Creek dentist to make sure your teeth and gums are healthy.
In addition to that, poor dental health can have an effect on the development of your baby. Not taking care of your oral health has been linked to pre-term or low-birth-weight babies.
What is the best way to keep my smile healthy during pregnancy?
Your teeth and gums are deeply affected by the food and drinks you consume. In addition to what you eat, you will often experience a lot of nausea and vomiting during pregnancy, which can leave the acid from your stomach lingering in your mouth. This acid can be very harmful to the enamel on your teeth and can damage them in the long term – especially if you are sick for a lot of your pregnancy.
If you have questions about dental work during your pregnancy, contact Stoney Creek Dental today. You can schedule a check-up to make sure your teeth and gums are healthy, along with having a cleaning so that any plaque or build-up on your teeth is removed and your smile stays healthy.