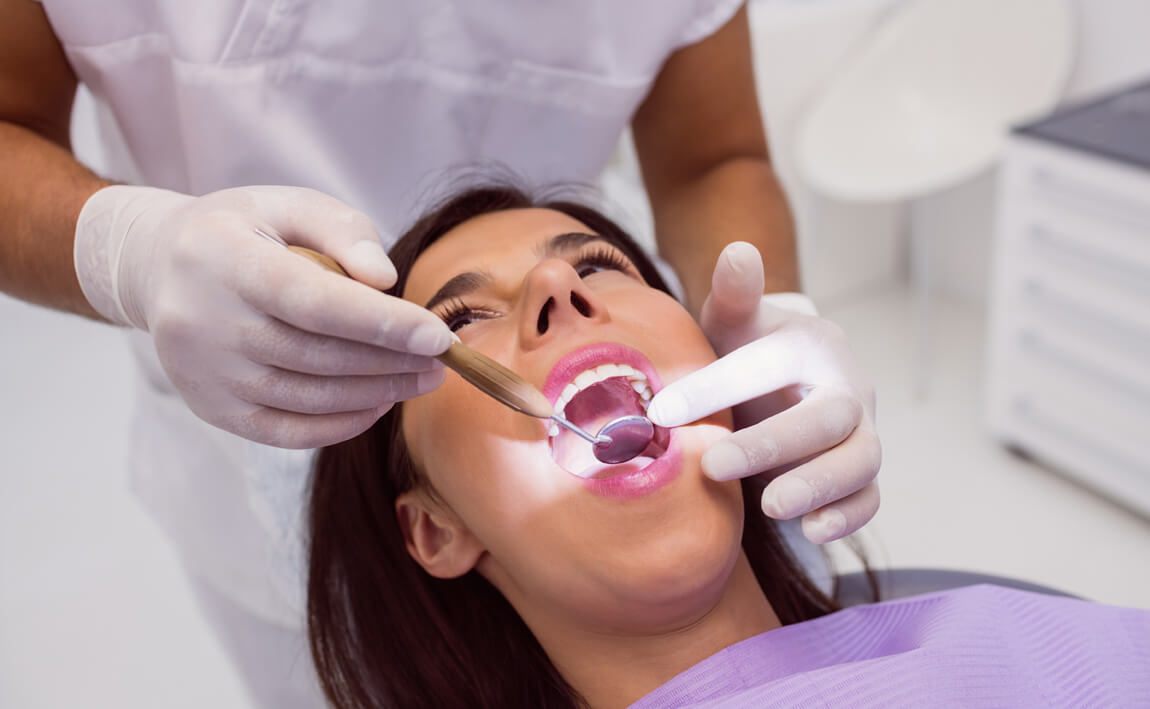 Posted on

August 03, 2021
Many of us are familiar with the enamel on our teeth being the strongest substance in our bodies, but we are less familiar with the signs that the enamel on our teeth is starting to break down or become eroded. Certain habits, foods, and even medical conditions can cause the enamel on our teeth to erode, leading to quite a bit of sensitivity. We put our teeth through a lot of wear and tear every day, so taking care of them is important to make sure they'll be healthy for as long as possible.
Here's what you need to know about enamel erosion, what causes it and how to prevent it from happening so you can protect your teeth.
Physical Symptoms of Enamel Erosion
There are a few ways you can visibly tell if the enamel is starting to wear down on your teeth, just by giving a quick check in the mirror after you're done brushing.
Darker/yellowing colour – thin enamel will often have a darker brown or yellow colour, which doesn't look like a natural tooth colour.
Tooth sensitivity – oftentimes, teeth with weakened enamel will be sensitive to hot, cold or even sweet stimulants.
Change in tooth feeling – when you run your tongue over certain teeth, do they feel rougher than the surrounding teeth? This could be a sign of weakening enamel on a certain tooth.
These symptoms are sometimes harder to detect than symptoms of other teeth decay or problems, which is why it can be an issue that goes undetected for such a long time. You can easily do a visual examination of your teeth at home to see if you have any noticeable changes.
Causes of Enamel Erosion
There are many reasons that the enamel on your teeth can wear down over time. It's almost a natural thing that will happen with lifestyle habits and certain foods we eat. Things that may cause pre-mature or extra wearing of enamel on your teeth can include
Frequent acid reflux
Bulimia (which is an eating disorder causing frequent vomiting)
Binge drinking/alcoholism (which is caused from vomiting and the teeth meeting stomach acid)
Citrus fruits, apples and even tomatoes
Sugary drinks like pop and even fruit juices
Sports drinks and flavoured waters
Prevention of Enamel Erosion
Even though in some cases, having the enamel on our teeth wear down is something most people just deal with, there are some ways you can prevent it or at least slow it down.
Try to limit the amount of acidic food and drink you consume. If you drink a lot of pop or fruit juice, try to cut back or – if you can't – then use a straw when drinking it so that it doesn't go directly against your teeth when you're drinking it. Additionally, if you're eating a meal, try to eat the most acidic food first so the other food will wash away the acid as you eat.
Brush twice a day with fluoride toothpaste. Make sure you're brushing for at least 2 minutes each time.
Wait 60 minutes between eating and brushing. If you brush too close to the last time you ate, it can actually wash away the softened enamel from just eating. The saliva in your mouth will help return the pH levels to what they should be.
Get regular checkups and dental cleanings, as this will help keep the enamel strong but also catch any issues early on.
Contact Stoney Creek Dental today.
If you suspect problems with the enamel on your teeth, be sure to book an appointment with us today.